Margie's Shop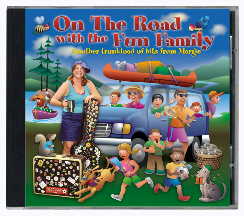 The "must-have" CD for any car trip: "On The Road With The Fun Family"

Margie and the Campfire Kids team up once again with master string-man Phil Rosenthal and a host of other talented musicians to bring you a trunk load of original story-songs celebrating the beloved family vacation. Sing, clap, stomp, dance, and laugh along to "The Fun Family", "Sittin' On the Barnacles", "Rocks in My Socks", "Go to Bed!" and others.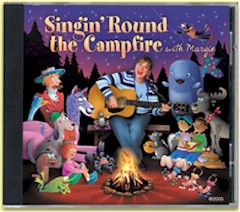 "Singin' Round the Campfire with Margie"
Praise for "Singin' Round the Campfire": The Hartford Courant says, "Delightful"; New Haven Register says, "Joyful songs with storytelling lyrics invite participation"; The Middletown Press says, "lively and fun; kids of all ages will enjoy…hilarious!"

Margie's singles "Singin' Round the Campfire" and "Sock Monsters" were both quarter-finalists in the 2006 International Songwriting Competition!
You can order CDs, with printed lyrics included, by phone: 860-526-5794 or by email: Margie@MusicWithMargie.com
Each CD is $10.00, plus $3.95 for shipping and handling (if being mailed).
Wish to purchase using a credit card or want to post a review?
Both CDs available on www.cdbaby.com. CD Baby gives 20% off for multiple orders!
Purchase your favorites in mp3 HERE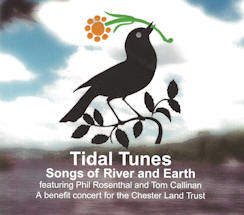 Help Support Chester Land Trust! A wonderful gift!
Tidal Tunes: Songs of the River and Earth
With Phil Rosenthal,Tom Callinan, Margie Warner, Dan Bernier, Tom Lee, Al Cornell, Rodney Maxwell, Tony Morrison
100% of proceeds form the sale of this CD will be donated to the Chester Land Trust.
Order by phone: 860-526-5794 or by email: Margie@MusicWithMargie.com